Missing teeth affect your smile and health in many ways, but dentures are often uncomfortable and can shift at embarrassing moments.
Teeth in a Day can immediately replace loose, broken, or missing teeth with an implant-supported restoration that looks natural and stays put.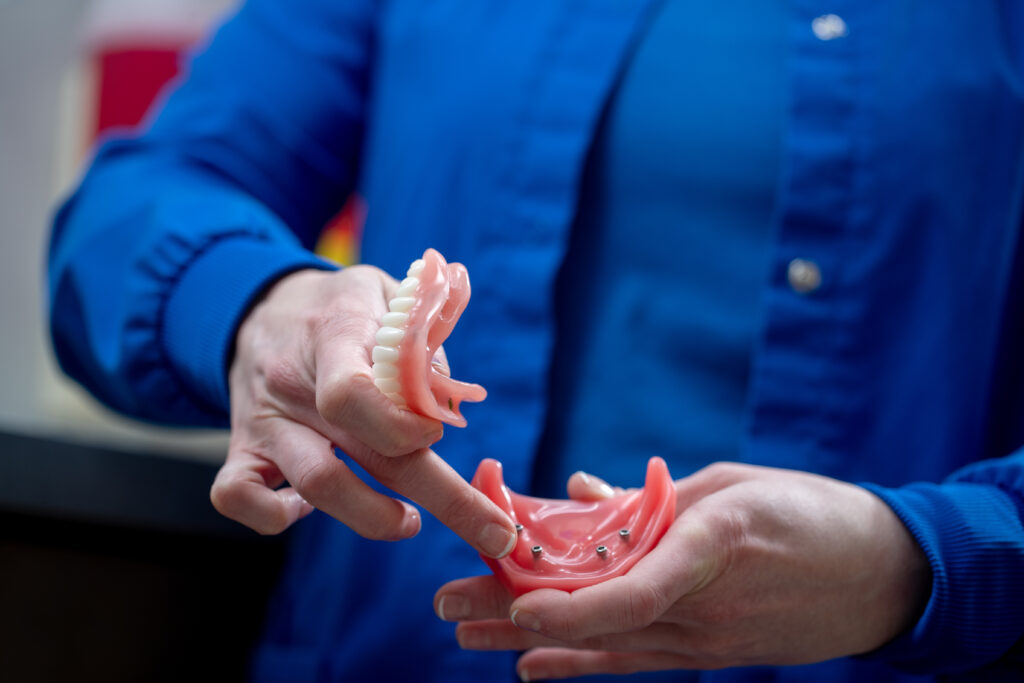 With teeth in a day, you are never without teeth.
The Teeth in a Day procedure allows your dentist to attach temporary teeth at the same time as your implant placement. You wear your temporaries throughout the healing process.
Everything from extraction to restoration happens in a single day. If your remaining teeth are worn, damaged, or loose, your dentist can remove and replace them with your implant-supported temporaries all in one appointment.
With Teeth in a Day, the recovery period is less disruptive than that of traditional implants. You can avoid spending months without teeth waiting for your implants to heal.
27% of adults over 65 have no remaining teeth.
But Does It Cost More Than Regular Implants?
Teeth in a Day costs about the same as replacing your teeth with a regular implant-supported denture. The final cost will depend on a couple of factors, including how many implants you need and the quality of your denture.
If your dentist performs the All-on-4® technique and uses only four implants to support your denture, your price may fall into the lower end of the range. However, there are a lot of other factors that can impact the final price of Teeth in a Day, including the type of temporary restoration you need.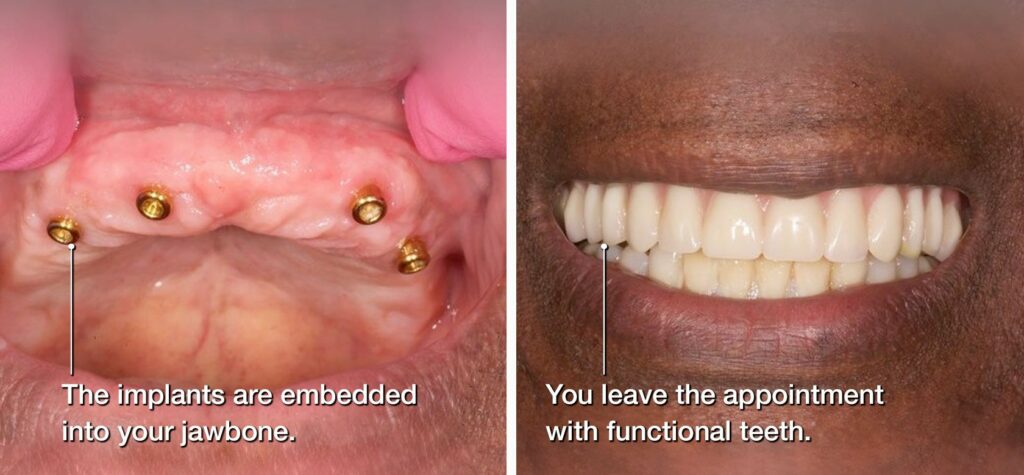 During this appointment, you will meet with your dentist and finalize your treatment plan. They will likely take impressions of your smile to create your temporary restoration.
Your surgeon will embed small titanium dental implants into your jawbone to support your new teeth.
On the same day as your implant placement procedure, your doctor will attach a set of temporary teeth to wear during the healing process.
For most patients, it takes three to six months for dental implants to fuse with the surrounding bone tissue. For the first couple of weeks, you may need to eat a soft food diet.
Once your implants have fully healed, your dentist will replace your temporary teeth with your new permanent smile.
At Rolla Oral Surgery, we know how to help you. Our board-certified surgeons and expert staff can provide the care you need to relieve the discomfort you feel.
What are others saying about us?
"My daughter, 9 years old, needed a tongue tie cut and a tooth pulled. She was very scared about this procedure. The staff was very loving, caring, and careful with her. I felt really well taking care of. They watch out alot for my daughter and even for me. The doctor called me on the same day at 7 pm to check in with my daughter and me. I am very impressed by the staff and would go back there if another procedure needs to be done. If there would be more stars available then I would give more."
"Dr. Donald Hofheins & Dr. Daniels were both absolutely amazing in patient concern & care. Not only is the office thorough & professional during the procedure, but extends the patient care in the evening & off hours. The Dr's offer personal care that is honestly hard to find now days. Thanks for taking such good care of my son!"