Although most people develop and grow 32 permanent adult teeth, many times their jaws are too small to accommodate the four wisdom teeth. When inadequate space prevents the teeth from erupting they are called impacted wisdom teeth. This indicates their inability to erupt into the proper position for chewing and cleaning.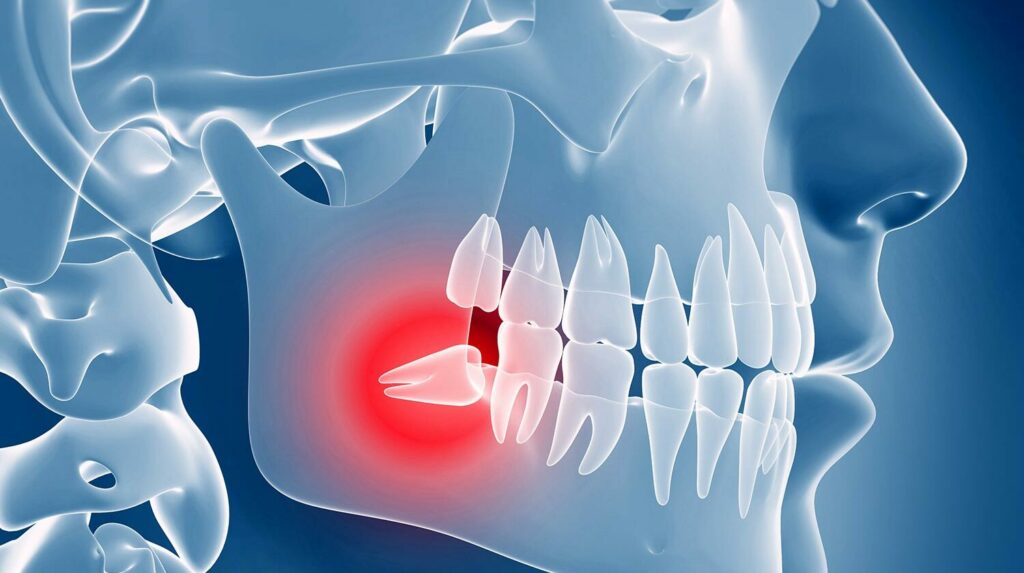 We will need to see you for a consultation to determine if you will benefit from wisdom tooth removal. A special x-ray of your mouth and jaws (panorex) will be taken to determine if your wisdom teeth are impacted, if there is room for them to erupt, and how difficult it will be to have them removed.
There is not enough room to allow the gum tissue to retract for adequate cleaning of the tooth.
There is enough space to allow the wisdom tooth to partially erupt. However, the tooth cannot function properly in the chewing process, and creates cleaning problems, among others.
There is NO space for the tooth to erupt. It remains embedded in the jaw bone or if even partially visible requires complex surgical techniques for removal.The impacted wisdom tooth may also be in an unusual position and difficult to remove. This situation can also arise when the shape or size of the jaw bone and other facial structures make removal of this tooth significantly more complex.
At Rolla Oral Surgery, we know how to help you. Our board-certified surgeons and expert staff can provide the care you need to relieve the discomfort you feel.
What are others saying about us?
"My daughter, 9 years old, needed a tongue tie cut and a tooth pulled. She was very scared about this procedure. The staff was very loving, caring, and careful with her. I felt really well taking care of. They watch out alot for my daughter and even for me. The doctor called me on the same day at 7 pm to check in with my daughter and me. I am very impressed by the staff and would go back there if another procedure needs to be done. If there would be more stars available then I would give more."
"Dr. Donald Hofheins & Dr. Daniels were both absolutely amazing in patient concern & care. Not only is the office thorough & professional during the procedure, but extends the patient care in the evening & off hours. The Dr's offer personal care that is honestly hard to find now days. Thanks for taking such good care of my son!"